Iran casts assassination plot as US attempt to distract from 'Occupy Wall Street'
A day after the US publicly accused Iran of an assassination plot, Iran's supreme leader Ayatollah Ali Khamenei countered with a different narrative.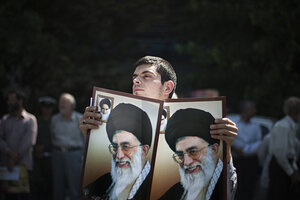 Morteza Nikoubazl/Reuters
Iran has expressed outrage at charges by the US that it was behind a plot to assassinate the top Saudi Arabian diplomat in Washington and bomb Israeli and Saudi embassies on US soil.
US court documents unsealed on Tuesday allege that Iranian agents from the Qods Force, a specialist branch of the Revolutionary Guard, sought to hire hit men from a Mexican drug cartel. But Iran is quickly countering with its own narrative that Washington is desperate to distract attention from severe economic problems, and what Iran calls the spreading "awakening" of American citizens manifested in the Occupy Wall Street protests.
"No doubt this is a new American-Zionist plot to divert the public opinion from the crisis Obama is grappling with," the chairman of Iran's National Security and Foreign Policy committee in parliament, Alaeddin Boroujerdi, said on Wednesday.
---