Air strikes against Iran nuclear program? Israel reconsiders.
Israel's former spy chief has warned against a preemptive strike on Iran's nuclear program, as has the US, citing its potential to boost Iran's regime at home and endanger US troops in the Middle East.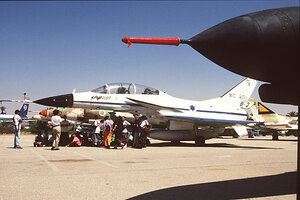 Scott Peterson / Gamma-Liaison
Israel's stance toward archrival Iran, which it suspects of developing nuclear weapons, relies largely on deterrence: The Jewish state has a decades-old reputation for carrying out risky surprise attacks against targets deemed as existential threats.
But the ability of Prime Minister Benjamin Netanyahu to embark on a new preemptive strike may have been significantly curtailed after a pair of warnings from US Defense Secretary Leon Panetta and an ex-Israeli spymaster about the potential negative fallout from such an attack.
Such predictions raise the political stakes for Israeli leaders contemplating such a move, making it less likely Mr. Netanyahu would lead Israel into battle against Iran without the support of Washington, say analysts.
"If something goes wrong, Netanyahu will be in deep trouble, because he will not be able to argue that he wasn't warned," says Akiva Eldar, a columnist for the liberal newspaper Haaretz. "To take the risk of a confrontation with Iran without clear American support is a big risk; this is something that every Israeli understands."
Israel's track record of attacks
---