Another Iranian nuclear scientist killed: part of 'covert war'?
Tehran blamed the death of Iranian nuclear scientist Mostafa Ahmadi Roshan, a deputy director at the Natanz enrichment facility, on the US and Israel.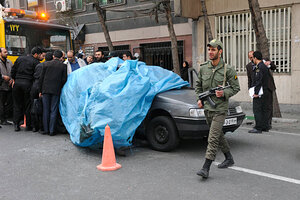 Sajad Safari/IIPA/AP
Iranian officials decried the assassination of a scientist involved in Iran's nuclear program in Tehran today, claiming that Israel was behind the latest strike as part of a broader covert war waged by the US, Israel, and the West to slow Iran's nuclear efforts.
The attack – reported by witnesses to be carried out by two men on a motorcycle, who affixed a magnetic bomb to the target car in north Tehran – fits a pattern of previous killings of Iran's nuclear scientists. It comes as Washington is increasing pressure with sanctions targeting the Central Bank and Republican presidential candidates threatening military action against Iran.
The scientist killed, Mostafa Ahmadi Roshan, was a deputy director at Iran's Natanz uranium enrichment facility, a professor, and a chemistry graduate of Tehran's prestigious Sharif University of Technology. Iranian officials claimed the assassins were working for Israel and the US.
"The terrorist action was carried out by the hirelings of the Zionist regime and those who claim to be fighting terrorism," Iran's First Vice President Mohammad Reza Rahimi told a cabinet meeting, according to the semi-official Fars News Agency. He condemned the killing as "evidence of [foreign] government-sponsored terrorism" and vowed that it would not stop "progress" of Iran's nuclear program.
Mr. Roshan was at least the third Iranian scientist linked to Iran's nuclear program to be killed in two years; a fourth who was wounded but survived a similar attack in 2010, Fereydoun Abbasi Davani, has since been named head of Iran's atomic energy organization.
A further shooting in July 2011 killed an electronics student who some reports claimed was working on high-voltage switches.
Iran alleges covert war
The Islamic Republic sought to portray the killing of Roshan as part of a broader clandestine effort to undermine the regime and its nuclear program, which Iran claims is aimed only at nuclear power production, not weapons. But some Iran experts say it is too early to make conclusions.
"The jury is still out," says Ali Ansari, director of the Institute for Iranian Studies at St. Andrews University in Scotland. "Either it is a Mossad hit or a CIA hit, in which case there needs to be a full investigation, because it's obviously outrageous if Mossad is sending hit men into Iran."
Or, he says, "it could be an internal battle [and] it's quite convenient to blame it on [outsiders]."
Israeli and American ambiguity on their alleged involvement in a covert war clouds the picture; both are reported to have played lead roles in the Stuxnet virus that targeted Iran's nuclear program and in other clandestine actions. "The point is, you need more substantive evidence," says Ansari.
The vice-speaker of parliament told lawmakers that Iran would remain defiant: "The enemy assumes that it can hinder the Islamic Republic's move toward progress and growth through such actions, but the experience gained [by their] blind assassination attempts over the past 30 years shows [they] will not influence our nation," said Seyed Shahabeddin Sadr, according to a translation by Fars. Iranian parliamentarians shouted "Death to America" and pumped their fists in protest.
One local official linked the death to upcoming parliamentary elections slated for March, the first in Iran since a presidential vote in 2009 ended in weeks of violent street battles and a brutal crackdown by Iranian security forces.
"Actually the job was done by the Zionists," secretary of Tehran's provincial security council Safar Ali Baratlou told Fars. "Zionists seem to be trying to create a security atmosphere in Iran on the threshold of [parliamentary] elections to decrease people's turnout in the polls."
---