Israel's identity crisis: Why it could be as detrimental as Palestinian conflict
Israel's ultra-Orthodox, who eschew army service and favor religious study over work, were once ignored as a tiny minority. But now they're posing a challenge to the Zionist state.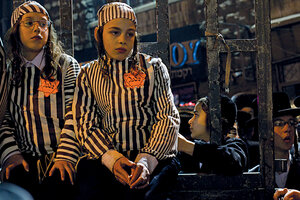 Bernat Armangue/AP
When Tanya Rosenblit boarded the No. 451 bus to Jerusalem last month, she knew that the predominantly ultra-Orthodox passengers would keep their distance from her because of their adherence to strict rules of gender segregation.
But when one of them demanded she move to the rear, Ms. Rosenblit held her ground.
"He said, 'Respect me by moving to the back of the bus,' " she said. "I said he should be ashamed he didn't respect [his] own mother or daughter. I asked him why it was so horrible for a woman to sit at the front of the bus. I was really angry."
Rosenblit's Rosa Parks-like confrontation helped reveal the fault line between mainstream Israel and the insular ultra-Orthodox, or Haredi, minority in a way not seen in years.
Culture clashes over Sabbath observance rules have been commonplace for decades. But reports of the creeping exclusion of women from public places has touched a raw nerve in the Jewish state by raising the prospect of an Israel dominated by a religious extremism similar to hard-line ideologies prevalent in neighboring Muslim states.
It also has added to fears that Israel's much-touted democracy and its underpinnings of individual rights and equality are under threat.
"This is an important moment for Israel. The good news is that both the public and the political system are responding with the appropriate outrage," says Yossi Klein Halevi, a fellow at the Shalom Hartman Institute in Jerusalem.
"One of the responsibilities that have been forced on the state of Israel because of its regional location, and its location in the Holy Land, is to be a force against religious fundamentalism. That's true in Israel's frontline role against jihadism, and it's true as well for maintaining an open society in one of the most religiously intense countries in the world."
Leaving their enclaves
---