In Jerusalem, national parks seen by Palestinians as a land grab
Seven existing and planned parks in sensitive East Jerusalem, chosen in part for their archaeological significance, would expand areas of Jewish control where Palestinians envision a future capital.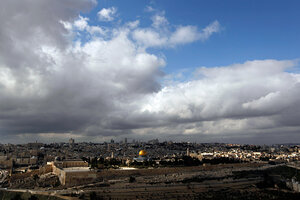 Ammar Awad/Reuters
An Israeli government plan to create a greenbelt around Jerusalem, preserving the ancient city's natural beauty and archaeological wealth, is fueling opposition among Palestinians and their supporters as the project moves into a critical stage.
Israel says the parks plan is necessary for the public's benefit. It also fits into Jerusalem Mayor Nir Barkat's vision for bolstering tourism in Jerusalem, which, despite its storied history, gets only a fraction of the visitors of Paris or New York.
But critics say the parks amount to a land grab that consolidates Israel's grip on disputed East Jerusalem. The territory was annexed by Israel after the Arab-Israeli war of 1967 and declared part of its "eternal, undivided capital." But it is envisioned by Palestinians as the capital of their future state.
"People say, 'It's just a park,' but these parks change totally the political scope of Jerusalem and have a direct impact on the lives of Palestinians," says Hagit Ofran, who monitors Jewish settlements in Palestinian areas for the dovish Peace Now movement.
Efrat Cohen Bar, an architect at the progressive Israeli planning group Bimkom, which recently conducted a study of national parks in East Jerusalem, terms them "green settlements," which have the same effect of keeping Palestinians off the land and expanding Israeli control. Israel denies that as a motive behind the project.
The battle for East Jerusalem
The national parks strike at the heart of the battle over East Jerusalem because they are on or near territory with nationalistic, religious, or strategic resonance. Together, they could link and expand areas under Jewish control, from the old city through the heart of East Jerusalem to the West Bank settlement of Maale Adumim.
---