Buoyed by 'Islamic Spring,' Hamas considers new direction
Hamas' political chief Khaled Meshal is stepping down as the militant Palestinian group faces a regional moment of change.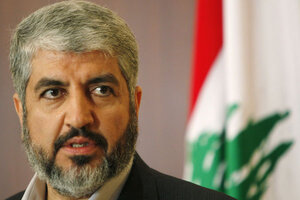 Hussein Malla/AP/File
Hamas' political chief is stepping down after nearly 16 years, leaving the militant Palestinian group with a potential leadership battle just as Islamist allies elsewhere in the Middle East are enjoying momentum from election victories.
Khaled Meshal, who headed Hamas' headquarters in Damascus, recently informed the group's leadership council that he won't stand for reelection, said a Hamas spokesperson in Gaza. It is unclear exactly why Mr. Meshal is choosing to step aside and who is likely to succeed him.
Recent upheaval in the Middle East has been a mixed bag for Hamas. On the one hand, it has empowered groups like the Muslim Brotherhood in Egypt, which controls nearly half of the new parliament, prompting Hamas leaders to boast about an "Islamic Spring" and emboldening backers in the West Bank. But the very same regional changes have cast it adrift from its headquarters in Syria and prompted Meshal to suggest non-militarized confrontation with Israel, to the chagrin of some in the movement.
---