Israel's ultra-Orthodox could lose exemption from army service
A landmark supreme court decision ends exemptions for ultra-Orthodox, a mushrooming group whose devotion to religious study instead of military service has led to accusations of freeloading.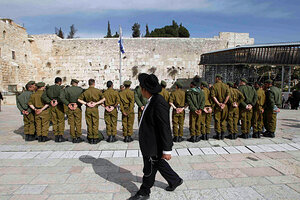 Baz Ratner/Reuters
In their eyes, the students at Jerusalem's Hebron Yeshiva are engaged in the most worthy task possible in this life: connecting with the will of the Almighty through study of holy texts.
While their secular peers wear the olive uniforms of the Israel Defense Forces, the students at this religious academy wear black felt skullcaps and white shirts with white strings, or tzitzit, hanging out as a reminder of 613 divine commandments. And while the society around them prides itself on being a high-tech bastion, the students of the yeshiva live without e-mails, iPhones, or TV – delving instead into the five books of Moses and subsequent interpretive and sacred texts.
''As a human being, I need to know what the Holy One Blessed Be He wants from me and that is why the Torah was given to us, that is why I study it,'' says Binyamin Gold, an affable student who comes from a family of 11 children. ''In every portion I see the approach of God, what he demands from me, how to behave morally, how to love him.''
Mr. Gold and his classmates are among an estimated 62,000 religious Israeli young men who are exempted from the country's mandatory military service. But that status is now in question, as Israel's ultra-Orthodox population expands rapidly, making secularists more restive. A landmark decision by the Israeli supreme court decision last week could significantly curb draft exemptions, which began relatively modestly shortly after Israel's founding in 1948.
The decision last week does away with a framework that in practice allowed for extensive draft exemptions. But some are skeptical that Prime Minister Benjamin Netanyahu will be willing to go against the wishes of his religious partners, preventing any drastic changes.
---