Egypt's rulers face backlash after lifting travel ban on Americans
Egypt had portrayed its case against American NGOs as necessary to thwart foreign agents intent on harming the country. Now angry Egyptians say their rulers have caved to US pressure.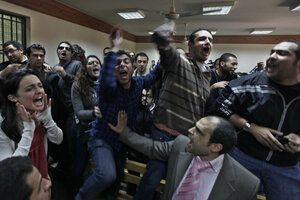 Khalil Hamra/AP/File
Egypt's apparent decision to lift a travel ban on seven Americans charged in the prosecution of US pro-democracy organizations could ease the worst US-Egypt diplomatic crisis in three decades. But it does not resolve key US concerns, and it opens Egypt's military rulers to public criticism that they bowed to American pressure.
"They are serving the Americans, just like Mubarak before them did," says Mohamed Adel, a Cairo security guard, of Egypt's military rulers. "If these Americans were hurting Egypt, they should stand in court and face justice, not run away with the help of the Army."
Egypt's rulers had whipped up nationalist sentiment by portraying the accused as foreign agents intent on harming Egypt, and launched a trial against 43 employees – including 16 Americans. But after more than two months of pressure from the Obama administration, and threats from congressmen to cut America's annual aid to Egypt – including $1.3 billion in military aid – Egypt's military-led government appears to have relented.
Hafez Abu Saeda, a lawyer involved in the case, says that an Egyptian court had decided to lift the travel ban yesterday for all foreigners charged in the case, and local media reported that a US military plane was waiting at the Cairo airport to transport the Americans out of Egypt.
Unresolved issues
The case has not been closed, however. An official from one of the American NGOs said today that the organization has not been informed officially of any change in the travel ban status. And an Egyptian newspaper reported that airport authorities prevented a British man connected to the case, though not charged, from leaving Egypt today.
---