High turnout in Iran elections could end 'paranoia' of leaders
While full results of Friday's Iran elections have yet to be released, the regime has trumpeted an official turnout of 64 percent as a public vote of confidence after the tumultuous 2009 election.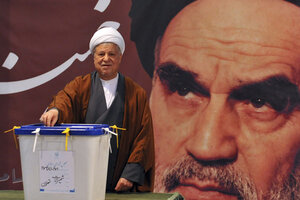 Ruhollah Vahdati/ISNA/AP
Three days after Iranians cast ballots in parliamentary elections, the political impact of the results remains unclear, even as official media hailed "victory" with a 64 percent turnout that it claimed "astounded" foreign journalists.
Iran's Foreign Ministry today "urged enemies to bow before the grandeur and dignity of the Iranian people," after "another epic in the history of their [1979] Islamic revolution."
Those enemies were to be found inside Iran also, but have now been crushed, according to the semi-official Fars News Agency. It reported today that the high turnout in the first election since the violent aftermath of the 2009 presidential vote "showed people's strong opposition to the seditionist moves started and led by the then-presidential candidates, Mir Hossein Mousavi and Mehdi Karroubi" – leaders of the opposition Green Movement who have been under house arrest for more than a year.
Farideh Farhi, an Iran expert at the University of Hawaii, says that Iran's declarations that the vote was a "slap in the face" of enemies means that the "paranoia" expressed by Iranian leaders in the run-up to the election could possibly be overcome.
"Let us hope they will be happy. It will have benefits for everybody if the paranoia goes away, and they feel successful," says Ms. Farhi. "The problem within the context of Iranian politics is they keep saying, 'We have won,' and 'We have done well,' 'We showed them,' but then the political discourse continues to be quite paranoid about 'sedition' and the designs of the enemy, so it never seems enough."
How elections will shape Iran's future
---