Iran elections: The most important ever, says Khamenei
Iran Supreme Leader Khamenei seeks to prove he is firmly in charge in tomorrow's national elections, the first since 2009, when President Ahmadinejad's reelection sparked historic protests.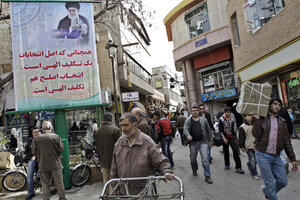 Kamran Jebreili/AP
Iran's Islamic regime is using every tool to convince Iranians to vote tomorrow in parliamentary elections, in what its top leader predicts will "smack the face" of the United States and other "enemies."
The Friday vote is the first national election since the ill-fated 2009 presidential election, in which widespread irregularities and charges of fraud prompted months of street protests, a violent crackdown on the opposition Green Movement, and a deep crisis of legitimacy.
Opposition leaders long under house arrest have called for a boycott, and voting for the 290-seat chamber comes amid widespread political apathy and deep dissatisfaction among Iranians about biting sanctions, economic uncertainty, and talk of war over Iran's nuclear program.
Iran's Supreme Leader Ayatollah Ali Khamenei, engaged in a power struggle between conservative factions and anxious that a high turnout bolster his legitimacy at home and abroad, said this was Iran's most important election ever.
"With the help of God, I think the Iranian nation will on Friday give a more powerful smack to the face of the Global Arrogance [United States]," Ayatollah Khamenei said yesterday, calling on Iranians to show their "steely determination" in foiling enemy "plots."
Khamenei needs a high turnout "so that to the outside world he can say that his regime still has enough support to attract a majority of people to the polling stations," says Muhammad Sahimi, a professor at the University of Southern California and an analyst for the Tehran Bureau website.
The task is not easy for a regime that millions of Iranians believe stole their votes in 2009 for the surging opposition candidate Mir Hossein Mousavi. Hard-liners won that battle of wills, but many Iranians have now stepped away from politics as a result – making this de facto referendum on Khamenei's rule all the more significant for the regime.
---