Iran's top ayatollah: We're trumping the West, but beware infighting at home
In a State of the Union-like speech before March elections, Ayatollah Ali Khamenei vowed to press on with Iran nuclear program, but warned of internal divisions between conservatives.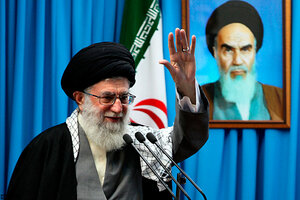 khamenei.ir/Reuters
Iran's supreme leader Ayatollah Ali Khamenei vowed today that Iran would not "retreat" on its nuclear program, and warned that any military strike "will be 10 times more detrimental to the US" than to Iran.
In a defiant speech delivered at Friday prayers at Tehran University, Ayatollah Khamenei portrayed the Islamic Republic as an omnipotent, triumphant regional player whose revolutionary example was the "biggest success in modern history," even as the US and NATO were "becoming weaker and weaker."
He claimed that Iran is the vanguard of an Arab world "Islamic Awakening," which brought down three dictators in the past year, and said Iran would support "any group in the world" fighting Israel.
Coming just days before the 33rd anniversary of Iran's 1979 Islamic Revolution, Khamenei's near-exultant speech – Iran's annual equivalent of a State of the Union address – elucidated Iran's current worldview as pressure mounts toward conflict. But his declarations of Iranian influence abroad were also counterbalanced by his acknowledgement of "weaknesses" and political division at home.
---