IAEA visit: It's showtime for Iran's nuclear denials
The IAEA team's three-day visit marks the first opportunity for Tehran to rebut allegations of a covert Iranian nuclear weapons program that were made public in November.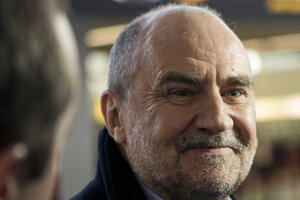 Herwig Prammer/REUTERS
With top United Nations nuclear inspectors on a three-day trip to Iran, Tehran is sending mixed messages of cooperation and defiance.
The high-profile visit from the International Atomic Energy Agency (IAEA) presents Iran with the first formal opportunity to rebut specific allegations of past weapons-related work since they were made public in an agency report in November.
The Islamic Republic has for years dismissed the documents those allegations are based upon as forgeries created by hostile intelligence agencies, aimed at besmirching a peaceful energy program. But now that talk of a US-Israeli war against Iran has gained momentum, in concert with an array of crippling sanctions, Iran says it will address those allegations.
"We are very optimistic about the outcome of the IAEA delegation's visit to Iran.... Their questions will be answered during this visit," Iran's Foreign Minister Ali Akbar Salehi said yesterday.
"We have nothing to hide and Iran has no clandestine [nuclear] activities," he said. "Of course I do not mean that a miracle will happen overnight, but you know a long journey starts with the first step."
Officials sought to reinforce that positive message today, by stating that the IAEA mission was there at Tehran's invitation, and was "in fact a proof of Iran's good intention," said senior lawmaker Parviz Sorouri, according to Fars News.
---