Hebron settlers threaten retaliation after Israeli police evict them
The tensions in Hebron, a mainly Arab city that's holy to both Muslims and Jews, test Israeli Prime Minister Benjamin Netanyahu's willingness to expand settlement in the West Bank.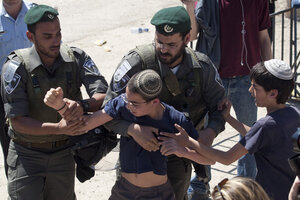 Sebastian Scheiner/AP
Israeli security forces swiftly evicted dozens of Jewish settlers from an illegally occupied building in this volatile West Bank city on Wednesday, ending a week-long standoff that had threatened to spill over into broader violence.
The raid caught the settlers off guard. Only a day earlier, Prime Minister Benjamin Netanyahu had moved to block the eviction order. Settler supporters in Netanyahu's hard-line government condemned the surprise raid, a key political ally threatened to quit the coalition and settler leaders vowed retaliation.
"He is expelling us from our property and land," said David Wilder, spokesman for Hebron's tiny, ultranationalist settler community. "We will be back in that building. It belongs to us."
The settlers' case
Hebron, the traditional burial site of Abraham, the shared patriarch of both Jews and Muslims, is the only place where Jews live in the heart of a West Bank city. Arab-Israeli violence there dates back decades, and clashes are frequent.
About 850 settlers now live in Hebron in heavily guarded enclaves among 180,000 Palestinians. Hundreds of Israeli soldiers enforce a rigid separation between the two sides.
The settlers seized the home in an overnight raid last Thursday, claiming they had purchased it from a Palestinian landowner. But the military subsequently ordered them to leave the building because they had not received proper approval to live there.
After Netanyahu's call for a legal review of the matter on Tuesday, it appeared the evictions would be on hold. But government officials said Netanyahu's attorney general determined the home should be cleared out immediately.
---