Omar Suleiman, Mubarak's no. 2, enters Egypt's presidential race
Many Egyptians loathe Omar Suleiman, a former intelligence chief whom rights advocates blame for decades of abuse and torture. But others see him as a man who can restore stability in Egypt.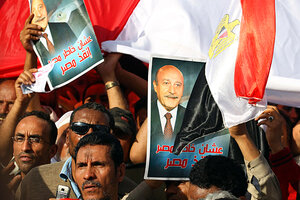 Mohamed Abd El Ghany/Reuters
Omar Suleiman, the right-hand man of former President Hosni Mubarak, announced today he will enter the race to become Egypt's new leader after Mr. Mubarak was forced out by a massive uprising last year.
Mr. Suleiman's decision raises the possibility that, one year after an uprising that was spurred in part by the Mubarak regime's brutality, torture, and oppression, one of the architects of that repression could become Egypt's first post-Mubarak president.
Some see his candidacy as a response by Egypt's military rulers to the Muslim Brotherhood's recent decision to field a presidential candidate – a decision that broke a year-long promise to stay out of the race. Omar Ashour, a visiting fellow at the Brookings Doha Center in Qatar, says Suleiman's candidacy raises the possibility that the Supreme Council of the Armed Forces (SCAF), which is currently ruling Egypt, may rig the elections to favor the former intelligence chief.
"His nomination is a bad sign," says Dr. Ashour. "It's a sign [SCAF] may support him and commit fraud. … it seems the rift between [SCAF] and the Brotherhood is wider than many estimated."
The Muslim Brotherhood, whose political party won nearly 50 percent of the seats in recent parliamentary elections, said in recent weeks that the military had threatened to rig the elections in favor of a military-supported candidate. The group's leaders said the Brotherhood was forced to nominate a presidential candidate to thwart threats to Egypt's democratic transition, in what many interpreted as a power struggle between the two dominant forces in Egyptian politics – the Islamist Brotherhood and the secular military.
In a statement announcing his candidacy, Suleiman promised to "complete the goals of the revolution" and "achieve the hopes of the Egyptian people, including security, stability, and prosperity." His entrance into the race has been rumored for weeks, but came just days after he announced he would not run for president. In today's statement, he said he reversed course to "answer the call of the people."
---