Egypt's liberals walk out, leaving Islamists to write a constitution
Of the 100-member assembly elected this weekend to craft Egypt's new constitution, about a fifth resigned before the group met today to begin writing.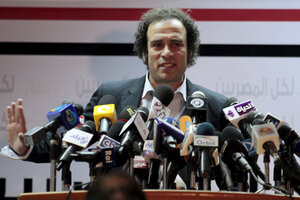 Mohamed Abd El Ghany/Reuters
A process that was supposed to be one of the crowning achievements of Egypt's uprising – the writing of a new constitution – began today amid controversy over the heavily Islamist makeup of the assembly chosen to craft the document.
A quarter of the 100-member constituent assembly did not attend the first session today, including about 20 mostly liberals and leftist figures who resigned from the body in protest (the reason for the other absences wasn't immediately clear). They complained that the Muslim Brotherhood's party, along with the ultraconservative Islamist Nour Party, rushed the assembly's election process to push through their own candidates, resulting in an Islamist-dominated assembly they say does not adequately represent minority groups and political ideologies.
The constitution will help determine how democratic the new Egypt will be, in part by outlining the balance between the powers of the presidency and Parliament. If the process continues without a compromise by the Brotherhood, it could result in a constitution rejected by many Egyptians, leading to instability and more military intervention in politics in the Arab world's most populous country, a major recipient of US aid.
"[Egypt's government] has talked a good game but this is its first consequential act, and if its first consequential act is alienating segments of society, that bodes ill," says Michael Hanna, a fellow at the New York-based Century Foundation. "This will have long-lasting impact."
---