Candidate Aboul Fotouh highlights diversity of Egypt's Islamists
Abdel Moneim Aboul Fotouh has emerged as a top candidate in next week's Egyptian presidential elections.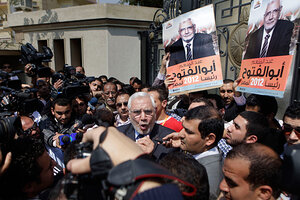 Amr Nabil/AP/File
As Egypt prepares to elect its first president after Hosni Mubarak's three-decade rule, it's no surprise that one of the front-runners is an Islamist.
What is surprising is that he isn't the candidate of the Muslim Brotherhood, whose political party took nearly 50 percent of the seats in parliamentary elections and is the best-organized political force in post-uprising Egypt.
Abdel Moneim Aboul Fotouh was a long-time reformist member of the group, but the Brotherhood expelled him last year when he defied group leaders in order to run for the presidency. Once considered by some to be a long shot, he is now seen as a front-runner with a chance of winning a spot in the runoff when Egyptians go to the polls next week.
After decades as the main representative of political Islam in Egypt, the Brotherhood is now facing challenges for that role, even as the organization holds more formal power than at any other point in its 84-year history. Dr. Aboul Fotouh's candidacy is perhaps the greatest challenge yet to the Brotherhood's hegemony, and an indication of how Egypt's revolution revealed the rifts within the Brotherhood and opened the field to Islamists outside the organization.
And while the dominance of Islamists in post-Mubarak Egypt has concerned some in the West, Aboul Fotouh's candidacy highlights how this force is not monolithic. Diversity and democratic competition is growing within the Islamist spectrum.
"The Brotherhood was never the only force in political Islam in Egypt, but they were the dominant force. Now this dominance is being challenged," says Omar Ashour, a visiting fellow at the Brookings Doha Center.
On one side, says Dr. Ashour, are the more conservative Islamists, including the Salafi Nour party and politicized Salafi sheikhs, the formerly jihadist Islamic Group, and young independent Salafi activists. On the other side is Aboul Fotouh and other reform-minded Brotherhood members who left the movement to pursue their own strain of political Islam after Egypt's uprising.
---