Israel, land of Jewish refugees, riled by influx of Africans
Violent riots broke out in Tel Aviv last night as a growing tide of African migrants strains Israel's ideal as a land for refugees.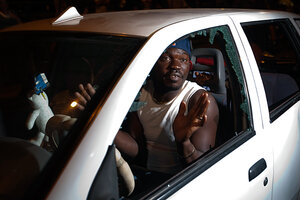 Ariel Schalit/AP
In an ironic twist, Israel's most tolerant city erupted in violent riots against African migrants last night, eliciting comparisons with "pogrom" attacks on European Jewish communities in the 19th and 20th centuries.
Over the past five years, tens of thousands of African refugees have poured into Israel, particularly into Tel Aviv's more conservative working-class southern neighborhoods. Their presence has fueled a growing moral and policy dilemma that pits the Jewish collective memory of refugeedom against present day fears for the state's economy and Jewish majority.
"Here is Israel, a country of refugees who gathered here from all over the world after having suffered for hundreds of years from racist persecution, discrimination, blind hatred, pogroms and death camps," wrote Shai Golden, a columnist in the Maariv newspaper, today. "Along come the members of the third generation after the restoration of this nation and they are amassing now against other refugees because of their difference, because of the color of their skin, because of their own economic and social distress, and they are behaving exactly the way the members of the host countries that hosted their parents and grandparents behaved."
In the working-class Hatikvah district of Tel Aviv last night, some 1,000 Israeli right-wing protesters carried placards calling for the expulsion of the Africans – a handful of parliamentarians even called them a "cancer" – and demonstrators smashed the windows of cars with Africans inside, looted stores, and beat others. Prime Minister Benjamin Netanyahu today condemned the violence and the remarks of the Knesset members, saying that Israel needs to deal with the problem "responsibly."
---