In Lebanon, a worrying sectarian spillover from Syria
Tripoli, Lebanon witnessed some of the worst sectarian fighting in the country since its civil war ended two decades ago, with Alawite and Sunni communities inflamed by the deepening war across the border in Syria.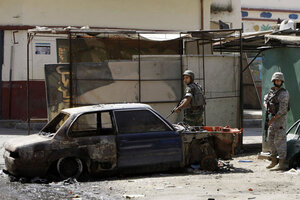 Bilal Hussein/AP
Rival Sunni and Alawite factions fought on Saturday some of the heaviest gunbattles seen in Lebanon's second largest city since the dark days of the the civil war which ended more than two decades ago. The latest bout of fighting here in Tripoli underlines Lebanese worries that the violence that has engulfed neighboring Syria over the past year is spreading across the border, aggravating unhealed wounds from the past and stirring fresh tensions that they fear could trigger a new civil war in Lebanon.
"We cannot be soft dealing with the Alawites and the Shiites because they have decided to slaughter all the Sunnis in Lebanon and Syria," says Sheikh Bilal Masri, a militant Sunni cleric from the Bab Tebbaneh neighborhood of Tripoli. The Alawite sect is an obscure branch of Shiite Islam which forms the backbone of the regime of Syrian President Bashar al-Assad.
Last week warnings that Syria's conflict could spread rang out in the halls of the UN and world capitals. US ambassador to the UN Susan Rice said she's worried about a scenario where "the violence escalates, the conflict spreads and intensifies... in involves countries in the region it takes on increasingly sectarian forms and we have a major crisis not only in Syria, but in the region."
---