Iran nuclear talks in Moscow may be delayed, say diplomats
Two diplomats close to the Iran nuclear talks, one Iranian and one European, each explain to the Monitor the frustrations and concerns that could delay the June 18-19 talks.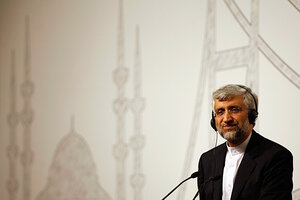 Osman Orsal/Reuters/File
The disconnect between Tehran and world powers over Iran's nuclear program is so serious that talks scheduled for Moscow next week may be delayed, according to officials from both sides.
If the scheduled talks – the third round in just over two months – do take place June 18-19, says an Iranian diplomat close to the negotiations, they will be "really tough."
"Even if the Moscow talks start [on] time, I believe that it will be the scene of complaints for Iran and [world powers] and may finally agree to have a next round as a result," says the Iranian diplomat, contacted in Tehran. "But the question is: How long could it be continued like this?"
Officials from both sides accuse each other of not being "serious" about engagement, of stalling for time, and being unwilling to strike a deal that would calm Western and Israelis fear about Iran ever trying to build a nuclear weapon; lift crippling sanctions on Iran; and avoid possible military strikes by Israel or the US.
Much will depend on a phone conversation set for later today between Iran's top negotiator Saeed Jalili and EU foreign policy chief Catherine Ashton.
That call will come amid increasingly acrimonious exchanges that illustrate the stark challenges that remain to a negotiated solution between Iran and the P5+1 group (comprised of the US, Russia, China, England, France and Germany) represented by Ms. Ashton.
---