Egypt's highest court declares a third of parliament illegally elected
On the eve of a presidential election run-off, two decisions by Egypt's highest court threaten to upend Egypt's transition to a civilian, democratically elected government.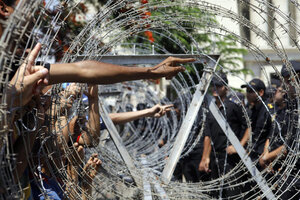 Amr Nabil/AP
Egypt's highest court ruled on Thursday that the last prime minister to serve under Hosni Mubarak can stay in the presidential race and that a third of lawmakers in parliament were illegally elected, forcing a re-vote in a potential blow to Islamists who dominate the legislature.
In one of twin decisions, Egypt's Supreme Constitutional Court allowed former prime minister Ahmed Shafiq to contest Saturday and Sunday's presidential runoff against the Muslim Brotherhood's candidate, Mohammed Morsi. The court ruled that a law passed by parliament last month banning senior former regime figures from running for office was unconstitutional.
The second ruling centered on parliamentary elections that were held late last year. A lower court earlier said that the law organizing that vote was illegal because it allowed political parties to run candidates for the third of the parliament's seats that were set aside for independents. The other two-thirds of the seats were contested by party lists.
The high court on Thursday agreed that the election for the third of the seats was illegal.
As a result, new elections must be held for at least those seats, and possibly for the entire legislature. The court did not specifically address what steps must now be taken, and the decision appears to fall to Field Marshal Hussein Tantawi, the head of the military council that has ruled Egypt since the fall of Mubarak on Feb. 11, 2011. Tantawi could suspend the current parliament until the one-third of seats is reelected, or he could dissolve the entire chamber and order a new vote on all 498 seats.
---