Egyptians vote for president with political transition in turmoil
Egyptians are casting their final votes today and tomorrow for president. The runoff election comes just days after a court ruling dissolved parliament, increasing the power of the military.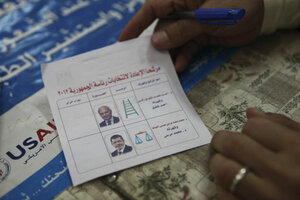 Thomas Hartwell/AP
Egyptians went to the polls once more Saturday to finally decide, 16 months after ousting former President Hosni Mubarak, who will take his place: a former Air Force commander associated with Mubarak, or a member of the Muslim Brotherhood.
The contest between Ahmed Shafiq, Mubarak's last prime minister, and Mohamed Morsi, the Muslim Brotherhood's candidate, should have been the final act in the transfer of power from a military junta to a civilian government at the end of the month. Instead, it comes as the transition process has been dramatically upended by a court ruling Thursday that annulled the newly elected parliament, increasing the power of the military and raising the stakes in the presidential race – thus erasing the progress of the past year since protesters flooded into Tahrir Square.
Turnout appeared moderate Saturday as Egyptians made their choice. The Brotherhood, which suffered a deep blow with the dissolution of parliament, has cast Mr. Morsi as the only bastion against the military and the former regime. Meanwhile, Mr. Shafiq, who has promised stability and is not likely to challenge the military's power, is considered by some the only hope against an Islamist state.
"We are not choosing a certain person. We are choosing a direction for the country," said one voter as he waited to cast his ballot a Cairo neighborhood.
---