Egypt's military rulers make 11th-hour power grab
The move, which came just as polls were closing in Egypt's first presidential election since Hosni Mubarak was ousted, overshadows the Muslim Brotherhood's claim of victory.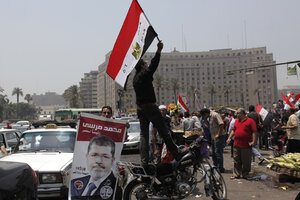 Nasser Nasser/AP
Egypt's interim military rulers have made an 11th-hour power grab that ends all pretense of a full transfer to civilian power by July as they had promised, overshadowing the victory claimed by the Muslim Brotherhood in Egypt's presidential runoff this weekend.
The military made its move last night, just as polls were closing in the final round of the country's first presidential election since Hosni Mubarak's ouster last year. Coming on the heels of the military's dissolution of an elected parliament and declaration of near martial law, it consolidates the military's power before a new president takes office by the end of the month.
The Supreme Council of the Armed Forces (SCAF) has granted itself legislative authority until a new parliament is elected and control over the process of writing Egypt's permanent constitution, and eliminated any civilian oversight of the military.
"For us, really, it's a declaration of war," says Hossam Bahgat, head of the Egyptian Initiative for Personal Rights. "It's a completing or closing a bracket of 18 months of uncertainty and making it abundantly clear that whoever is elected president is not going to have much power, because the only house of power is going to be the military."
The Muslim Brotherhood's Freedom and Justice Party (FJP) has claimed an unofficial tally that shows their candidate, Mohamed Morsi, with 52 percent of the vote – barely eking out a win over his opponent Ahmed Shafiq, Mr. Mubarak's last prime minister and a former Air Force commander.
But official results are not due until Thursday, and with such a slim margin, challenges or appeals could change the outcome of the race. Mr. Shafiq's campaign disputes the vote count and claims that it will come out on top.
---