As showdown with military looms, Egypt liberals back Muslim Brotherhood
The Egyptian military has offered the Muslim Brotherhood a choice: give us sweeping powers, or lose the presidency.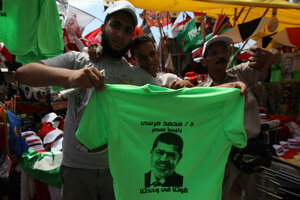 Amr Abdallah Dalsh /Reuters
A coalition of non-Islamist leaders and revolutionaries announced their support for the Muslim Brotherhood's presidential candidate today, overcoming a year and a half of bitter disagreements to unite against the attempt of the Egyptian military to hold on to power.
The show of unity increases the Brotherhood's leverage as it faces off against Egypt's military rulers, who this week limited the authority of Egypt's incoming president and granted themselves sweeping powers that will extend past the end of this month, when they had promised a full handover to a civilian government.
But for all the appearances of an all-out confrontation between the two sides, many believe they are negotiating in secret as well. Two non-Islamist figures said Brotherhood leaders told them this week SCAF had offered them an ultimatum in a recent meeting: either accept the constitutional declaration giving SCAF wide powers or accept the military's preferred presidential candidate, Ahmed Shafiq as the victor. The Brotherhood refused, said one of the sources, both of whom asked to remain anonymous.
As the Muslim Brotherhood's candidate, Mohamed Morsi, held a press conference to announce the new coalition backing his presidency, thousands of people filled Tahrir Square, responding to a call from the Brotherhood to protest the military's recent power grab. The Supreme Council of the Armed Forces (SCAF) responded with a statement dismissing the complaints and indirectly threatening the protesters.
---