Israel's 'Occupy' movement struggles to get its groove back
Israel's social protest movement is struggling against divided leadership, a stronger government, and the perception that last summer's protests accomplished little.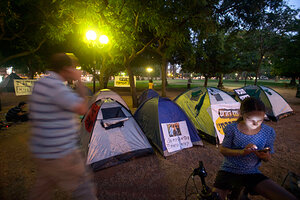 Dan Balilty/AP
Inspired by Arab Spring protests, they captured Israeli hearts and minds last summer by setting up a tent city on Tel Aviv's main boulevard and leading hundreds of thousands in peaceful demonstrations across Israel to lobby for a redistribution of the economic pie.
Now, as Israel's version of Occupy Wall Street returns to the streets for a second summer, it is struggling to get its groove back. A "million-man march" has been called for July 14, but their leaders are divided, the city has banished their symbolic encampment from the city center, and there's a perception that they achieved few tangible results despite the buzz last year.
"Last year, the protest movement was based on a fad," said Yoav Yishai, an economics student at Tel Aviv University as he marched through blocked off streets with thousands of protestors on June 30 in Tel Aviv. "Because last year nothing happened, it is hard to think [the demonstrations] will have the same impact as last year."
The organic growth of the tent city on Rothschild Boulevard last summer inspired Israelis, shining a spotlight on frustrated but engaged youths.
The encampment attracted curiosity seekers and spawned solidarity tent cities around the country, which enabled the protests to dominate the media agenda for several months. By highlighting Israel's high cost of living and the yawning gap between the upper and lower classes, the demonstrators struck a chord with middle class Israelis beyond the confines Tel Aviv's liberal European Jewish elites.
---