Fearing boycott, Israeli academics warn against accrediting West Bank school
The Israeli higher education committee for the West Bank approved accreditation of Ariel University Center today. One university president warns the move endangers Israel's 'next Nobel prize.'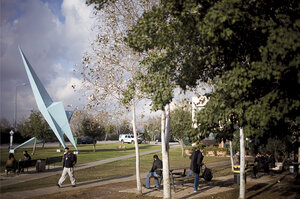 Ariel Schalit/AP/File
Perched on a hilltop range in the northern West Bank, the Ariel University Center (AUC) looks west toward the Tel Aviv skyline 20 miles away and north to the minarets of Palestinian villages a few miles off.
The ivory tower has sprouted up amid the red-roofed settler homes and olive tree groves at the edge of Ariel. In between classes, stylishly dressed students stretch out on manicured lawns shaded by pines. It's a cutting-edge place, too: A promotional video touts an optical laboratory that tests non-invasive surgical tools while academic officials brag about a laser project and students talk about their research on water desalinization.
Built up over 15 years, the facilities, professors, and research are central to AUC's next goal: becoming Israel's eighth accredited university.
That would be a milestone for both the school and Ariel. It would bestow a new kind of national gravitas on the settlement, the fourth largest in the West Bank, making it more difficult to uproot in the case of a peace agreement with the Palestinians.
Political and academic officials have not been shy about that secondary goal. In AUC's promotional video, Stra­tegic Affairs Minister Moshe Ya­a­lon praises the school: "With its strategic location, [AUC] enables defensible borders for the state of Israel."
That's why what would likely be a simple accreditation process in almost any other country has instead become a controversial political decision. The question of whether to make AUC official raises explosive questions about Israel's long-term military occupation of the West Bank.
---