Omar Suleiman, Mubarak intel chief, dies as quietly as he worked
Longtime intelligence chief Omar Suleiman, also former leader Hosni Mubarak's right-hand man and a key US partner in the War on Terror, died in a US hospital today.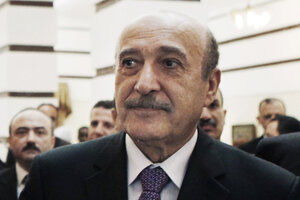 Nasser Nasser/AP/File
Omar Suleiman, the longtime intelligence chief under ousted president Hosni Mubarak who was also a friend and partner of the US, died in a US hospital early today, according to state media.
Although Mr. Suleiman was Mubarak's right-hand man and oversaw the torture of detainees in his nearly two decades as head of the General Intelligence Directorate, he was never arrested or charged with a crime after the uprising that ousted Mubarak, a testament to the power structure that endured even after Mubarak was toppled. Instead, he ran for president, provoking fears of a return of Mubarak's regime before he was disqualified from the race.
Some Egyptians expressed satisfaction at Suleiman's death, though they rued the fact that he was never punished for his crimes, while his band of loyal supporters mourned his passing. His death comes as Egypt's new president, a member of the Muslim Brotherhood organization that Suleiman worked to suppress, welcomed to Cairo a leader of Hamas, the Brotherhood's Palestinian affiliate that Suleiman tried to undermine.
Omar Ashour, professor of Middle East politics at the University of Exeter, says Suleiman was a divisive figure.
---