Under Israeli blockade of Gaza, books are a rare, cherished commodity
Israel does not explicitly ban importing books to Gaza, but the blockade makes it extraordinarily difficult to do so. The shortage amounts to a kind of censorship, Gazans say.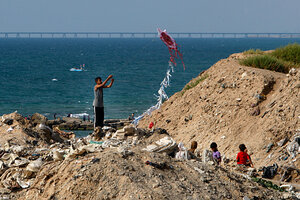 Adel Hana/AP/File
The Israeli blockade of the Gaza Strip has been blamed for a multitude of problems facing the population there: malnutrition, unemployment, limited access to electricity and potable water.
Gazan students and educators say that under the Israeli-imposed siege, education is suffering too. The blockade makes it so difficult to bring in books that they are forced to resort to bootlegging and smuggling, they say. The limited supply of original books has driven up costs, making them difficult for most Gazans to afford.
Part of the problem is that Israel does not communicate directly with Hamas, the Islamist militant party that governs Gaza, instead relying on the West Bank-based Palestinian Authority (PA) to handle issues in both of the Palestinian territories. However, Gaza is isolated from the West Bank, both geographically and politically, so the limited number of books entering Gaza via Israel are chosen by the PA, not Gazans.
Hamas may be Israel's target when circumventing dialogue with Gaza's book-buyers, but Gazan students say they're the ones paying the penalty and that the shortfall in book supply amounts to an infringement on their freedom to get an education.
Work-arounds
---