Slow to turn on Qaddafi, Bani Walid now struggles in a post-revolution Libya
Bani Walid's resistance to joining the uprising against Muammar Qaddafi earned residents a reputation for being regime loyalists, leaving them marginalized in the new Libya.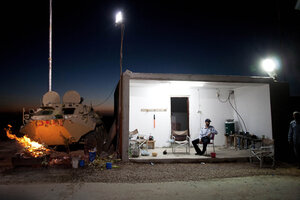 Manu Brabo/AP
Last September a young regime fighter named Faouzi was posted near a replica castle overlooking the entrance to his hometown of Bani Walid when it suddenly crumpled in a cloud of dust.
"It was NATO," he says. "You couldn't see the rockets, of course – only hear them."
Eight months earlier, he had been protesting in the street against Muammar Qaddafi. But within weeks, he was fighting for Qaddafi's regime.
His journey illustrates the complex loyalties in play during Libya's civil war, and the challenge of reconciliation between those who backed revolution and those who stood against it. Today both sides express feelings of betrayal.
A coalition of parties that won Libya's first post-Qaddafi elections last month has called on Libyans to unite, and many in the country support that message. But many also distrust those who backed Qaddafi during last year's civil war. If divisions persist, they could undermine or even reverse progress made toward building a stable democracy.
Bani Walid is often seen as a hotbed of loyalist sentiment. While that may exist, residents say tribal loyalty and a sense of persecution have motivated them the most.
"People there are proud," says Mustafa Fetouri, a Brussels-based Libyan academic who is from Bani Walid. "Trying to break it by force only made them more reluctant to support the revolution."
A history of defying control
The town, situated about 75 miles southeast of Tripoli, is small, but as the ancestral home of the large Warfalla tribe, it is important. Two centuries ago, the English traveler George Lyon found modest houses hugging a wadi, or seasonal river, and impoverished inhabitants.
---