With Migron outpost evacuation, Israeli settlers lose the battle – but not the war
Israeli peace activists are celebrating this week's Supreme Court order to evacuate the Migron outpost, but the settler population continues to expand in the background of such standoffs.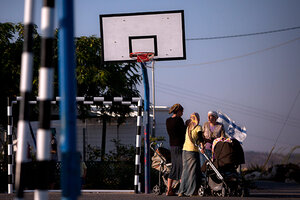 Sebastian Scheiner/AP
Israel is on the verge of the its largest settler evacuation in seven years after the Supreme Court rejected an appeal from Migron outpost residents to postpone an order to evacuate land that the government says belongs to Palestinians.
Israeli peace activists are hailing the Sept. 4 eviction deadline as a landmark victory in which the court forced the hand of the government against efforts to unilaterally establish new towns in areas claimed by the Palestinians. But Migron's 50 families are a fraction of the continuously expanding settler population of more than 300,000, a growth trend that makes a two-state solution to the Israeli-Palestinian conflict less and less possible.
"This is one baby step forward," says Sam Bahour, a Ramallah-based businessman who sees the move as an effort by Prime Minister Benjamin Netanyahu to curry favor with the US administration. "It's not a change of heart and a not a change of policy, and that's what is needed."
For Israelis, Migron is the flagship of the dozens of unauthorized outposts established in the 1990s and early 2000s to dramatically expand the footprint of Israeli settlements in the West Bank, flouting a policy upheld by successive Israeli administrations not to give formal cabinet approval to new settlements. However, the Palestinians and most of the international community consider all of Israel's settlement activity in the West Bank as illegal under international law.
Israel has been reluctant to evacuate the outposts, despite a promise to the US and an admission by the state attorney that many sit on Palestinian land. For many, that symbolizes the influence of the settler lobby on Israeli policy and government acquiescence in their goals of making a Palestinian state physically unworkable.
---