The new Netanyahu: Not so beholden to Israeli settlers
Prime Minister Benjamin Netanyahu, newly aligned with the more centrist Kadima party, moved today to knock down settler houses built on Palestinian property.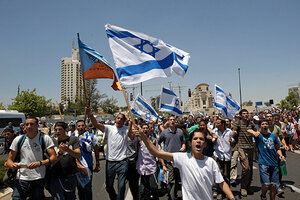 Ronen Zvulun/Reuters
Prime Minister Benjamin Netanyahu finalized a plan today to remove settler homes built on Palestinian property and quashed a move by hard-line allies in parliament to retroactively legalize the housing. The moves highlight the Israeli leader's newfound political leverage after broadening his coalition last month.
The plan comes in response to a Supreme Court order to evacuate the property, located in the Beit El settlement near Ramallah, by the end of the month. Under the plan, Israel will lift five buildings off their foundation in the "Ulpana Hill" neighborhood of Beit El and move them to an army base nearby. Mr. Netanyahu will compensate settlers by approving some 50 new units for West Bank settlers.
Though evacuating the property isn't expected to revive the moribund peace process, it does demonstrate that the inclusion of the more centrist Kadima party has liberated Netanyahu's coalition from being almost exclusively dependent on the votes of the right wing.
"This is one of the reasons why he formed the coalition. This was the big issue that was looming over everyone's head," says Herb Kenion, a political commentator for the Jerusalem Post. "He realized that [the evacuation of Ulpana Hill] was going to be a problem."
---