Will Palestinians accept Romney's outstretched hand?
Republican presidential candidate Mitt Romney is trying to step back from harsh remarks made about Palestinians earlier in the campaign.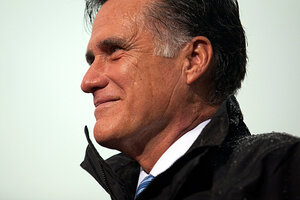 Evan Vucci/AP
Republican presidential candidate Mitt Romney has softened his message to Palestinians, even as he makes mending ties with Israel a main foreign policy plank.
In a foreign policy address yesterday, he vowed to restart moribund talks to create a Palestinian state after they faltered under President Obama – a sharp contrast to a video made public earlier in the campaign that showed Mr. Romney telling a group of donors such negotiations had little chance of success.
"On this vital issue, the president has failed, and what should be a negotiation process has devolved into a series of heated disputes at the United Nations," he said yesterday. "In this old conflict, as in every challenge we face in the Middle East, only a new President will bring the chance to begin anew."
Palestinian legislator Hanan Ashrawi said she wasn't comforted by the shift, and that she's disturbed by Romney's vow of "zero daylight" between the US and Israel – a promise seen as an appeal to Jewish voters frustrated by frequent spats between President Obama and Israeli Prime Minister Benjamin Netanyahu.
---