Syrian rebels fight to keep route to safe havens in Lebanon
The Syrian Army's pounding of the territory between Homs and the Lebanese border has sent hundreds of Syrian fighters and civilians fleeing to the Lebanese town of Masharih al-Qaa.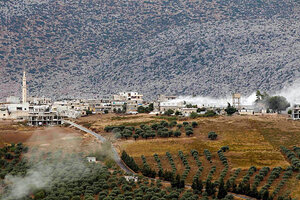 Osman Orsal/Reuters
MASHARIH AL-QAA, north Lebanon
The Russian Mi-24 helicopter gunship, just visible in the dawn haze, performed large sedate circles high above the Syrian border village of Jusiyah, seemingly confident that it faced no threat from the Free Syrian Army fighters hidden below.
As it flew over the village again, a powerful blast among the buildings sent up a cloud of black smoke and a shockwave that thumped across the border into Lebanon and over the flat fields and orchards of Masharih al-Qaa to the south.
"The helicopters are dropping barrels filled with TNT," says Ismael, a Lebanese volunteer with the Jusiyah Martyrs' Brigade, a component of the larger Omar Farouq Brigade, one of the leading FSA units. "We lost 10 of our men yesterday when one of those explosive barrels landed on a fighting position."
A bitterly fought battle for the Syrian town of Jusiyah in the past week has starkly underlined the challenges facing the armed Syrian opposition against the regime of President Bashar al-Assad. Nineteen months into the confrontation, the rebel forces have no way to counter the regime's military superiority, particularly its artillery and air power, which allow it to pound the opposition into submission.
"We need anti-tank missiles and anti-aircraft missiles. That's all. With those, we can win this war," says Hussein, a middle-aged Syrian from Jusiyah who was an irrigation engineer before joining the Jusiyah Martyrs' Brigade.
Jusiyah's location on the border with Lebanon has lent it some strategic importance for the FSA because it has allowed militants to enter and exit Syria with relative ease. Slipping into Syria via Jusiyah allows access to the town of Qusayr, five miles north of the border, and from Qusayr, militants can reach Homs, Syria's third largest city where fierce battles between the Syrian army and the opposition are currently being waged.
---