Momentum builds for Gaza to secede, Israel and West Bank to become one
Gaza and the West Bank have become two irreconcilable entities, many say. Meanwhile, Israelis increasingly support a state shared with West Bank Palestinians, albeit unequally.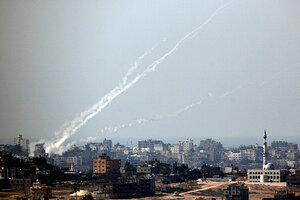 Amir Cohen/Reuters
After decades of the "two states for two peoples" blueprint more or less dominating proposals for Israeli-Palestinian peace, a new paradigm is gaining momentum. Under this model, Israel absorbs the West Bank and its 2.5 million Palestinians, while Hamas-run Gaza becomes a separate entity aligned with the Middle East's rising Islamist powers.
Such a development could potentially improve stability after decades of unresolved conflict, but it represents a blow to Palestinians and their aspirations of statehood as well as to Israelis who see a Palestinian state as essential for their own security. Gaza militants' firing of more than 70 rockets and mortars into Israel today emphasized the security risk posed to Israel by a rogue neighbor that neither it nor the West Bank-based Palestinian Authority (PA) can control.
A visit to Gaza yesterday by the emir of Qatar, a key member of the region's emerging Islamist alliance and the first leader to make a state visit since Hamas took over in 2007, underscored the fact that Gaza and the West Bank have since become two distinct – and potentially irreconcilable – entities. Unless that split is resolved, Palestinians can't present a united front at the peace table with Israel.
"It's a wonderful excuse [for Israelis] … to say, 'Until you settle things with yourselves and we have one address and we can talk to the new leadership [peace talks will be postponed],' " says Alon Liel, a veteran Israeli diplomat who now works in the private sector. "And you hear more and more [talk] about the possibility of annexing the West Bank or at least finding an agreement that in practical terms [makes it] one state while Gaza will stay on its own or have an agreement with Egypt."
---