As Hamas confronts Israel, its Arab support swells
The last time Israel went to war with Gaza, it didn't have to worry about regional diplomatic fallout. The Arab uprisings have changed that calculus.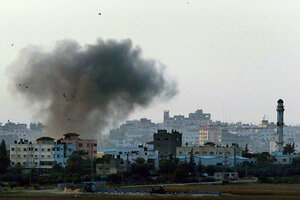 Yannis Behrakis/Reuters
The last time Israel launched a major military operation in Gaza, it could count on neighboring Egypt not to pose any significant opposition. Its then-ruler, Hosni Mubarak, was hostile to Hamas, the ideological cousin of the internal Egyptian opposition group the Muslim Brotherhood, and he kept Egypt's border with Gaza mostly shut as Israel waged a war that killed more than 1,000 Palestinians.
But in the post-"Arab spring" Middle East, the region looks much different, and Hamas has found a new swell of support as it faces Israel. Mr. Mubarak, ousted in a popular uprising in 2011, has been replaced by an elected president from the Muslim Brotherhood. Instead of a mostly sealed Gaza-Egypt border, it has become difficult to keep track of all the solidarity trips made to Gaza by Arab officials.
Egypt's President Mohamed Morsi sent his prime minister, Hisham Kandil, on Nov. 16. Islamist-led Tunisia's foreign minister followed the next day. The head of the Muslim Brotherhood's Freedom and Justice Party, Saad el Katatni, is due to lead a delegation there today, followed by an Arab League delegation tomorrow.
---