A wary Iraq weighs its options as Syrian civil war deepens
Fears in Iraq of a spillover of Syria's fighting, or a victory for Sunni Islamists hostile to the Shiite-led government in Baghdad, have Iraq weighing its options.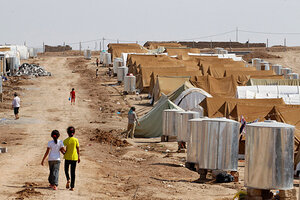 Thaier al-Sudani/Reuters
As Syria implodes, shock waves from the sectarian conflict are being felt in Baghdad, where a beleaguered Iraqi government is struggling to maintain a hard-won but fragile stability.
Iraq has said it is trying to play a neutral role in the conflict next door. But escalating violence, involvement by regional players, and the Shiite-led government's unique fear of a more hostile successor than the Syrian president appears to have made neutrality impossible.
"We think the regime is finished, but we are afraid of what comes next," says a senior Iraqi official who asked not to be identified.
For now, there are concerns that Iraq is tolerating military support for Syrian President Bashar al-Assad's government.
Baghdad's sincerity in agreeing to intercept Iranian military shipments to Syria has again come under scrutiny due to limited efforts on its part to inspect Iranian aircraft using Iraqi airspace. Iraq has searched only two Iranian flights since it began the inspections two months ago, according to diplomats and government officials. One of them was returning from Damascus rather than heading there.
"The biggest concern we have is the facilitation of the Iranian air bridge," says a Western diplomat. "They know what's in those flights, we know what's in those flights, and they're continuing. The inspection process is a charade."
---