After UN condemns Syria abuses, Assad rains artillery down on Homs
(Read article summary)
Syrian leader Bashar al-Assad redoubled his assault on the city of Homs after a symbolic UN General Assembly vote calling on him to step down.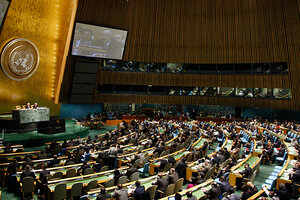 Devra Berkowitz/The United Nations/AP
• A daily summary of global reports on security issues.
Syria's Bashar al-Assad delivered an emphatic and bloody response to the UN General Assembly vote yesterday calling for the Syrian leader to stop attacking civilians and step down from power.
Mr. Assad's forces rained down artillery shells on the city of Homs, a rebel bastion that has over the past week received one of the most withering and sustained government assaults of the war.
VOA reports that Assad retains powerful allies and has shown no signs of a willingness to step down.
General Assembly resolutions are non-binding, but reflect world opinion on major issues. Eleven nations joined Syria in voting against the resolution, most notably Russia and China, which vetoed a similar measure in the U.N. Security Council earlier this month. The VOA correspondent in New York says other nations whose ambassadors spoke against the General Assembly resolution included Iran, North Korea, Bolivia and Venezuela.
---