Family of journalist Austin Tice struggles with silence on kidnapping
Austin Tice was kidnapped near Damascus in August. His family went to Beirut recently in hopes of extending their reach into Syria and finding out more about who might be holding him.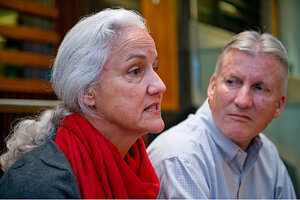 Ann Hermes/The Christian Science Monitor
"There's not a manual for this," says Debra Tice, clutching her husband's hand as they sit in the lobby of Beirut's Commodore Hotel.
Mrs. Tice and her husband, Marc, were in Beirut recently as part of their ongoing quest to find their son, Austin, who was kidnapped in Syria in August while working as a freelance journalist. It's a journey that has taken the Houston family to the State Department, put them in front of media cameras, and introduced them to a world of backchannel communications and international intrigue that they knew absolutely nothing about just a year ago.
"We came here to extend our reach into Syria," Mrs. Tice says. Her husband adds, "We want to reach as widely as we can in hopes that the person who has the ability [to release him] will show some compassion to us."
The number of kidnapped journalists has climbed as news organizations have covered everything from the Afghanistan and Iraq wars to the Syrian civil war alongside fighters. And with the rise in the number of reporters operating in dangerous places like Syria – and with many parties seeing value in targeting them – many expect the threat to persist.
Yet no uniform playbook on handling such crises has emerged, largely because each situation is unique. And while that makes sense, it leaves families struggling with agonizing choices as they try to calculate which steps are most likely to secure a safe release for their loved one.
Sifting through sensitive questions
---