How some Israelis see the sacred in settlements
The expansion of Israeli settlements in the West Bank is driven by more than politics and security concerns. Religious Zionists say settling the land is ushering in a messianic age.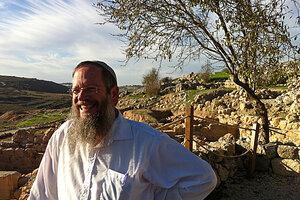 Christa Case Bryant/The Christian Science monitor
As Rabbi Dovid Ben Meir leads visitors through the ruins of this ancient city, believed to have served as the Jewish capital more than 3,000 years ago, his love of history is clear. But it wasn't his love of the past so much as his desire to shape the future that led him here. When he was a teenager in Chicago, a class on modern European history got him thinking: In every revolution, there are people for, against, and indifferent. "I wanted to say to myself that I would be for revolution, for progress. But I was born 200 years too late."
Then he had a second thought.
"I realized there was something immense going on in the world – the restoration of the state of Israel, the redemption of the people of the Jewish nation," recalls the rabbi. His parents were both Holocaust survivors, barely – his father was pulled off a mound of bodies when someone saw him move. "I wanted to take part in building a better future, the building of the Jewish nation in the land of Israel."
Today, he is a father of nine and lives with his wife in a West Bank settlement near Shilo.
It's communities like his that the United Nations rejected on Nov. 29, when an overwhelming majority of member nations affirmed the right of Palestinians to establish a state here.
Since Israel captured East Jerusalem and the West Bank in a 1967 war with its Arab neighbors, the Jewish population in these areas has grown from virtually zero to at least 550,000, leaving Palestinians with shrinking patches for a homeland.
---