Syrian rebel infighting could take dangerous turn if Assad falls
If President Bashar al-Assad falls and the disparate Syrian opposition groups lose their common enemy, their ranks will likely fracture – perhaps violently.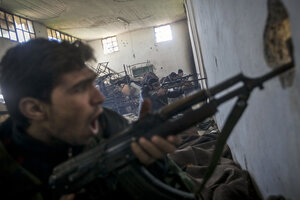 Narciso Contreras/AP
In recent weeks, a number of opposition fighters in Aleppo have come to see the fall of the Assad government as only a matter of time. But bringing down the unpopular president may be easy in comparison to unifying an opposition that at times seems held together by little more than members' shared hatred of President Bashar al-Assad.
Without him, it's often unclear what will hold the disparate armed and civilian rebel groups together.
Last month, that much-needed moment of unity seemed to be on the not-so-distant horizon with the creation of the new Syrian opposition council in Qatar. Inside Syria, a number of Free Syrian Army fighters and civilians living in opposition controlled areas welcomed the news, praising the appointment of coalition leaders with recent time on the ground inside Syria.
But like many moments of optimism inside wartime Syria, it was short-lived. A week after the announcement of the new coalition, a group of Free Syrian Army commanders in Aleppo came together to announce that they rejected it and had decided to create their own coalition that was now calling for the creation of an Islamic state in Syria.
---