Lebanese border means little in Syria's civil war
With Sunni villages sheltering Syrian rebel fighters and Shiite villages shipping Hezbollah fighters across the border, northern Lebanon is now just another frontline in Syria's war.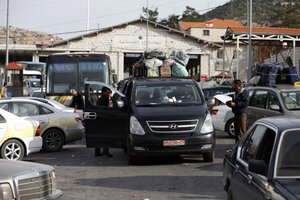 Jamal Saidi/Reuters
NOURAT AL-TAHTA, north Lebanon
The four rain-filled bomb craters all visible within 100 yards of Mahmoud Ismael's house starkly illustrate how Lebanon's northern border has become an active frontline in Syria's civil war, drawing in rival Lebanese Shiite and Sunni factions.
A fifth shell had struck the edge of the roof, knocking out chunks of concrete and sending heavy steel shrapnel scything into the cement parapet and the soft earth below.
"It was a terrifying night. We all thought we would be killed," says Mr. Ismael, surveying the damage.
The Lebanese government, which follows a policy of neutrality towards the war in Syria, has found itself almost powerless to prevent pockets of north Lebanon becoming either bastions of support for the Syrian regime or de facto safe havens for the armed Syrian opposition.
Tensions between Lebanon's Sunni and Shiite communities have been running high for several years. But they have been aggravated further by the increasingly sectarian nature of the conflict in Syria, which has pitted the majority Sunni opposition against the Alawite minority, a subsect of Shiite Islam which forms the backbone of the regime of President Bashar al-Assad.
Nourat al-Tahta, like other Sunni-populated villages along the border in the northern Akkar province, is deeply supportive of the Syrian revolution and shelters refugees and Free Syrian Army militants alike. The villages in the area have been subjected to Syrian artillery shelling on a near nightly basis since May. The shelling is intended to hit FSA members who slip across the border into Syria at night as well as to punish those Lebanese who provide assistance and a safe haven for the militants.
---