Turkey sees promise in pivoting north
With its attempts to join the EU stalled and its leadership role in the Middle East marred by Syria's conflict, Turkey is turning its attention to a less tumultuous border – the Black Sea.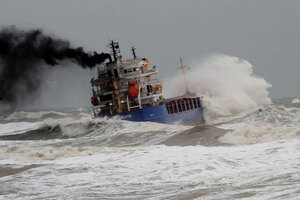 AP Photo
Its protracted bid to join the European Union remains stalled and its "zero problems" policy in the Middle East is cracking over support for Syria's opposition. But one foreign policy front retains promise for Turkey: the Black Sea.
Nowhere is it more evident than the busy industrial city of Trabzon in northeastern Turkey, a regional trade hub because of its location on roads that connect it to both Istanbul and other cities to the east. The cobblestone streets of the city center are bustling with buses and private cars carrying passengers to Georgia, only 125 miles to the northeast, as well as trucks shipping goods across the region via the highway that cuts through the city.
If plans for a highway connecting the 12 countries bordering the Black Sea go forward, Trabzon's growth – and Turkey's growing stance as a regional leader – is poised to surge.
Turkey's Black Sea coast, far from its tumultuous southern border, offers a promising contrast its more troubled efforts to join the EU and to expand networks in the Middle East. Ankara has emerged as the dominant initiator of regional cooperation, institutionalized by the Black Sea Economic Cooperation (BSEC), which was founded on the heels of the collapse of the Soviet Union.
Filling the Soviet vacuum
---