Hagel nomination: Israelis ask 'what's the big deal?'
While American pro-Israel groups sound the alarm on President Obama's choice of Chuck Hagel for secretary of Defense, Israel itself seems much less concerned.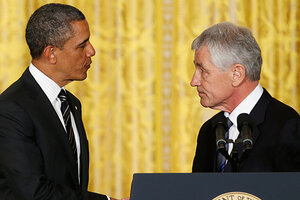 Carolyn Kaster/AP
President Obama's choice of Chuck Hagel for secretary of Defense, hotly contested by the American Jewish community, has received a muted response in Israel. While some echo concerns that the former Republican senator is dangerous or anti-Semitic, others here ask, "Who's that?"
To be sure, the appointment of a man who is seen as soft on Iran and eager to talk to terrorist groups on Israel's borders isn't generally popular here.
Knesset Speaker Reuven Rivlin said today that Israel should be "concerned, but not afraid of Hagel's isolationist ideas." But he and other politicians, including candidates in Israel's Jan. 22 elections, have emphasized that US-Israel ties go deeper than any one personality and have expressed confidence that the two countries would remain strong allies.
"It's none of our business, it's America's prerogative," said Naftali Bennett of the right-wing HaBayit HaYehudi (The Jewish Home) party, whose popularity has surged in recent weeks. "Israel and America's bond goes way beyond certain relationships between individuals."
Mr. Bennett's shrug comes despite the fact that Hagel's record diverges sharply from Bennett's views on Iran, which he identifies as the most pressing foreign policy issue facing Israel. While representing Nebraska in the Senate, Hagel voted repeatedly against US sanctions on Iran and has expressed opposition to a military strike on Iran – a country seen by some Israelis as an existential threat to the Jewish nation.
---