Olympics: How top athletes live the spirit after retiring from sports
Former Olympic athletes – from Kerri Strug to Eric Heiden – must find a way to replace the thrill and satisfaction of top competition.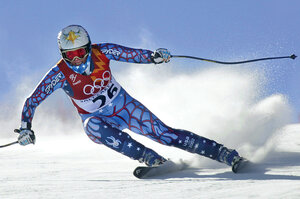 AP/FILE
When Kerri Strug landed her vault on an injured ankle at the 1996 Atlanta Olympics, helping US women gymnasts win their first gold medal ever as a team, she became a national hero at age 16. And yet, even before entering college, she faced a transition that for many athletes is akin to a midlife crisis and retirement wrapped into one.
"I think for many Olympians it's difficult. [The Olympics] have been a goal for the majority of their life, and you don't want to look beyond that because you don't want to lose focus," says Ms. Strug, who now works for the US Department of Justice. "But if you're willing to [put] so much time and energy and passion in one area, there's no reason you can't do it elsewhere."
While many athletes struggle to transition to "civilian life," as one put it, those who are successful bring with them a wealth of tools that enable them to contribute to their communities in a unique way. For them, the Olympic experience serves as a crucible for forging qualities of character that enable them to bring out the best in others.
"It was awesome to ... be able to see Olympians in each and every one of [my students]," recalls Olympic decathlete Dave Johnson, who went on to work in special education.
At one point, he manned a "resource room" for students who had gotten kicked out of class. Many were living with grandparents after their parents had divorced or died.
Mr. Johnson, anchored by his Christian faith, as he had been when he won a bronze medal in 1992 despite breaking a bone in his foot, tried to be a steady presence for the young people. "A couple of them were thinking, 'I'm going in a bad direction, but academics can help me get out,' " he says.
---