What to do when the Olympics aren't fun anymore
A gold medal performance is about more than health and skill. It also can be about having fun in the biggest moment of your life. But doing that can be hard, athletes say.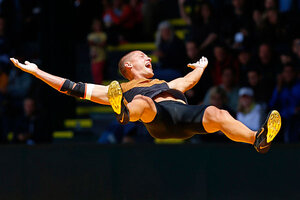 Mike Blake/Reuters/File
Trey Hardee was on the infield of the Bird's Nest, surrounded by 80,000 fans at the 2008 Summer Olympics, when he realized that something was very wrong.
It was his first Olympic Games, and he was sitting in fourth place in one of the glamor events, the decathlon. But it was now the pole vault, and he had failed to make either of his first two attempts. A third miss would disqualify him from the competition, and as he pondered that possibility, "I woke up."
"You get in this fog," he said at a pre-Olympics media event in May, trying to explain his mental state on that Beijing night. "You think you know what you are doing."
He didn't. He missed again, and what had begun as a promising march toward a potential medal ended abruptly.
Four years later, he leaves no doubt as to what he has learned from that disappointment: "For me, I lost sight of the fact that the pole vault is fun."
Beginning Friday, we will be regaled with countless stories of work, work, and then more work – of the Olympians who have taken the monastic oath of athletic asceticism in the hopes of achieving the extraordinary here. That they enjoy this life and the sports to which they give so much often seems to go without saying.
Perhaps it shouldn't.
From burnout to nerves to a simple desire to see what it's like not to train for six hours a day, Olympic athletes often battle against a foe more insidious than injury or opponent: the fact they they're not having any fun anymore.
---