North Korea flag mix-up to go down in Olympic history as major insult
A video before the North Korea-Colombia Olympic women's soccer game Wednesday showed the South Korean flag. In the history of Olympic host nation embarrassments, it's a whopper.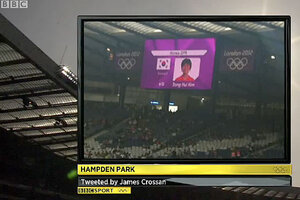 YouTube
In the long history of the Olympic Games, stretching across more than a century, two World Wars, and a Games put on by the Third Reich, one might think that exchanging the South Korean flag for the North Korean flag might not be the worst mistake ever made by a host nation.
But it might well be.
Olympic flag mix-ups tend to be along the lines of flying the Estonian flag upside-down, as happened in Barcelona after the breakup of the Soviet Union, says David Wallechinsky, author of "The Complete Book of the Olympics."
"This is way more insulting," says Wallechinsky. "To actually raise the flag of a nation considered your enemy – that's a real bad one."
The mistake made at Hampden Park in Glasgow, Scotland, led to the delay of the women's soccer game between North Korea and Colombia for about an hour after the North Korean team walked off the pitch. A video introducing the North Korean players showed their faces next to a South Korean flag.
---