London Olympics 2012: Can USA top the medal table?
The 2012 Summer Olympics should again see China win the most golds and the US win the most medals overall. The split points to the two countries' different Olympic aims.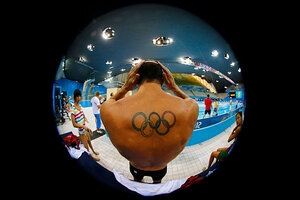 Jorge Silva/Reuters
From Friday's opening ceremonies to the look of the venues, London might be trying to position itself as Beijing's opposite – an Olympic Games unafraid of modesty and inclusion. But from the perspective of the medal table, London is likely to look a lot like China.
The same forces at work four years ago are likely to shape the medal table over the next 17 days, too:
China will continue to reap the benefit of its massive spending ahead of the 2008 Games, probably winning the gold medal count.
Britain, which went on a sport spending binge of its own when it won the 2012 Games, will probably match its strong showing in Beijing, where it finished fourth in the gold medal and overall medal counts.
Russia, once locked in its superpower struggle with the US for Olympic supremacy, will probably confirm that it can no longer match such heady achievements, remaining a distant third.
Amid these rising and falling Olympic fortunes charted during the past two Summer Games, the United States remains the historical constant, once again likely to win the overall medal count and slot in behind China in the gold medal count.
Whether this hierarchy becomes the new normal won't be clear until the Olympics in Rio and perhaps not until 2020, when the echo from Beijing dies out, and China will have to decide whether to continue its high spending or take its foot off the Olympic gas. For now, the medal table will bear witness to the two different ways that China and the US target Olympic glory.
---