Olympics outrage: Should Jordyn Wieber be in the all-around final?
Criticism mounts after favorite Jordyn Wieber failed to qualify for the all-around final at the Olympics despite a solid performance. Rules allow only two American gymnasts in the final.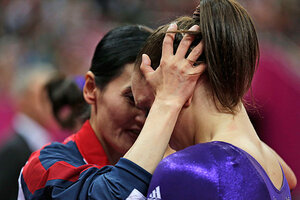 Gregory Bull/AP
Jordyn Wieber, welcome to the Olympics.
Logic dictates that we ask the question: How could Ms. Wieber, the 2011 all-around world champion – who even on an off day Sunday finished fourth in the qualification round – not make an Olympic all-around final of 24 girls?
Put another way: Twenty-one girls who scored lower than her on Sunday – many of whom have as much chance of medaling as Queen Elizabeth (at least, the non-parachuting version) – will be competing Thursday in the event that defines the careers of the world's best gymnasts.
And yet the girl who is likely the world's best gymnast will not be there.
Outrageous? Absolutely.
Unusual? Hardly.
It is the Olympics.
Since 2004, the Olympics have had a two-per country rule for the gymnastics finals, and since Gabrielle Douglas and Alexandra Raisman were among the three girls who put up higher scores than Wieber Sunday, Wieber became the odd girl out.
The Olympic philosophy is "we want to spread the wealth, we want to spread sport to other parts of the world," says David Wallechinsky, author of "The Complete Book of the Olympics." Otherwise, there would be no Saudi Arabian woman runners or American badminton players.
But Wieber's failure to make a final that her scores suggest she clearly deserved points to a philosophy run amok, says Mr. Wallechinsky. "Sure, let them compete in the Olympics, but you don't have to let them compete in the final," he says.
---