Michael Phelps not best Olympian ever? So says chief of London Olympics
Sebastian Coe, revered British Olympic long-distance runner and head of the London Olympic organizing committee, said other athletes' Olympic achievements might be more impressive than those of all-time medal leader Michael Phelps.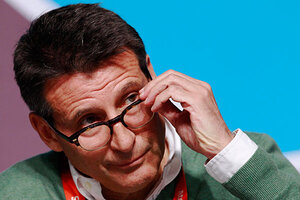 Luke MacGregor/REUTERS
Lord Sebastian Coe, two-time British Olympic gold medalist and chief of the London Olympic organizing committee, has said the unthinkable.
Michael Phelps, in his estimation, is not the greatest Olympian of all time.
Later today, American officials are expected to announce the termination of all diplomatic relations with Great Britain, withdraw embassy staff from London, and issue a new deck of "most wanted" playing cards with Lord Coe as the joker.
For the record, his exact words, as reported by The Associated Press, were: "He is certainly the most successful. That goes without saying.... But whether he is the greatest? In my opinion, probably not."
How could Coe possibly say this? How do you argue with 19 medals – especially when three more are certainly not out of the realm of possibility here in London. On the all-time Olympic medal table, Phelps is threatening to lap the field.
Well, the argument goes something like this:
Imagine you are the best triathlete the world has ever seen. You win gold in every Olympics you enter, and you do it emphatically. You run faster, you cycle faster, and you swim faster than everyone else in the field. You compete, the world gasps, and your competitors are left to suck the fumes of your greatness.
In the end, you will win, what – three gold medals, at the very most? On one very important level, you are equal with Phelps: You are the greatest athlete in the history of your sport. In the great medal argument, however, you are not even a bug on Phelps's windshield.
---