Jessica Ennis and the night Britain's Olympics all became worth it
Britain had a big night at the Olympic Stadium Saturday, winning three golds including one for Jessica Ennis, the British face of the London Games.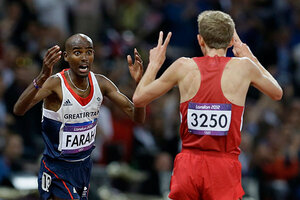 Kirsty Wigglesworth/AP
In the years to come, when the British people take stock of their Olympic adventure and ask themselves the inevitable question – "Was it all worth it?" – this night will enter their reckoning. And maybe, just maybe, that will be enough.
Was "God Save the Queen," sung by 80,000 people to that trembling mighty mite atop the medal stand Saturday, audible across the Atlantic?
It surely echoed across this land – into pubs and living rooms and through city squares into the nation's very consciousness. For months now, all Britain has climbed upon the muscular shoulders of Jessica Ennis – wishing, hoping that the heptathlete with the six-pack abs and million-dollar smile could win them all a gold medal. Then, in that moment on the top step of the podium, when dreams of athlete and nation intertwined in perfect fulfillment, the British people seemingly took her upon their shoulders.
She was their Jess, and they were singing to her.
In an age when the communal moment has been sacrificed on the altar of Netflix and Facebook updates, Britain enjoyed something nearly extinct Saturday. For the space of an evening, those who watched saw themselves as a harmonious whole, each man and woman unified in awe of what emotions a girl from Sheffield could inspire within them – just for throwing a stick and jumping into a big pit of sand.
---