In US-Japan Olympic soccer final, a triumph for women's sport
The US beat Japan, 2-1, in the Olympic women's soccer final Thursday, avenging a loss to Japan in the World Cup final last year. But on this night, every medalist went away a winner.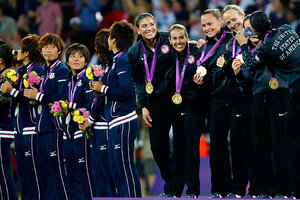 Mike Blake/REUTERS
When the three women's soccer teams emerged from the beneath Wembley Stadium – Japan, the United States, and Canada – there was no trace of sadness or disappointment on a single face. Each team held hands, three unbroken lines of purest delight, seemingly aware not just of what they had done on this day, but what they had achieved.
The US had won the gold-medal match against Japan, 2-1, on a perfect August night in London, but the scoreline and who had won what medal was really not the story at all.
In an Olympics where women have, perhaps for the first time, taken center stage, this Olympic soccer tournament turned out to be evidence of the most compelling sort of what women can achieve on the field of play when given a fair chance.
It has been slow in coming. For years, Olympic women's soccer tournaments have been unbalanced, uncompetitive, and often showed how far there was still to go more than what had been achieved. But on Thursday, three teams that had given the world soccer of the highest order during the past four days strode to the center of the pitch at Wembley – the spiritual home of soccer – and knew that they had thoroughly earned this moment.
Not one of the teams on the medal stand had lost a thing, really, because what they had gained was immeasurably more. Women's soccer was no longer a project, concocted in the Swiss laboratory of the International Olympic Committee with high ideals and limited expectations. It was the finished product, full-blooded and thrilling.
---